Cleaning companies near Chandler are the experts at cleaning, but that does not mean that you should leave all of the heavy lifting to them. To receive the best house and carpet cleaning you can, there are a few ways you should get your home ready.
Declutter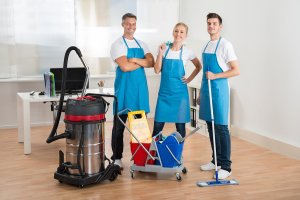 Decluttering should be a regular practice within every home, but when a cleaning service is coming over, you should make a point to declutter as much as you can. The whole point of hiring cleaning services is to give your home a deep clean. With extra knickknacks, appliances, and all-around junk cluttering up your home and garage, it will be difficult for the house cleaners to give your home the cleaning it deserves. Also, with more fragile items left out in the open, you run the risk of a cleaner accidentally breaking something while they clean. The less your surfaces are cluttered, the deeper clean your house will receive and the less likely something could go wrong.
Move Furniture
Many cleaning services will not move furniture. If you want a specific part of the rug cleaned, or you have a hard-to-reach area beneath the couch or bed, then you may have to move the furniture yourself. Ask your cleaning service beforehand what they will and will not do. However, you should still move all of your light furniture and chairs elsewhere to make the cleaning run quickly and more efficiently.
Communicate Your Wishes
Cleaning services, and their employees, typically have a standard list of where to clean, which products to use, and how to clean the house. If you do not make extra requests, then they will do what they do best. If you have a specific request—a certain product to use, area to clean, etc.—then you need to communicate that request as soon as possible. It would be best to state your desire when you are calling services for quotes, but you should also bring it up once the cleaning personnel are in your home.